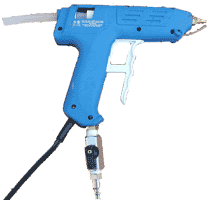 So, you want to make some spider webs to "dress-up" your latest Halloween project. Well, here's one way to do it using a hot glue gun and some inexpensive plumbing parts. (Oh yeah, it also requires a source of compressed air for operation.) It shoots fine strands of hot glue, that look very much like spider webs, onto your tombstones, skeleton or whatever you want. It can be made for under $40, is easy to use and works quite well. This design has been tested as a monthly project (Feb. 2006) for our CalHauntS prop building group. Seventeen people built their own and each one worked very well.
If you don't want to build your own, here's a good source for ready made web makers.
You can click on any of the pictures for a larger image.